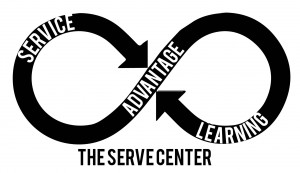 What is Service-Learning Advantage?
Service-Learning Advantage provides an opportunity for Truman students to participate in co-curricular (outside of the classroom) service-learning and community-engaged leadership while receiving credit on their Co-Curricular Records.
SLA is available for individuals, small groups, or student organizations. Students create and implement a service project. They define and fulfill learning objectives and afterward participate in a reflection (STAR) session.
The SLA Student Manual is a helpful guide for a service-learning project.
Key Components of SLA:
Project Facilitator: student leader that is responsible for assisting the Service-Learning Coordinator in the project documentation and assuring that all criteria are met
Community Partner: non-profit, government-run, or faith-based organization that students partner with to meet a specific need
Faculty Advisor: faculty member that oversees project
SLA Coordinator: SERVE member that leads and assists project facilitator throughout duration of project