The 13th Annual Big Week of Giving: October 8-13, 2017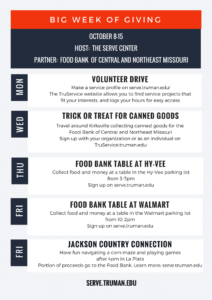 The Week
Monday:  Volunteer Drive
Create a volunteer profile at truservice.truman.edu
It's fast, and it will log all the hours you do through the SERVE center! Handy for graduation!
Wednesday:  Trick-or-Treat for Canned Goods
Register at truservice.truman.edu
Meet on the quad on Wednesday at 4pm. You'll be assigned a street location and provided bags to collect canned goods from the community
Thursday:  Table at Hy-Vee
Sign up to table at Hy-Vee to collect canned goods for the Food Bank!
SIGN UP ON THE GOOGLE SHEET HERE
Friday:  Table at Walmart
Sign up to table at Walmart from 10-3pm to collect goods for the Food Bank!
SIGN UP ON THE GOOGLE SHEET HERE
Friday:  Corn Maze at Jackson Country Connection
Enjoy a corn maze and other fun games at Jackson Country Connection in La Plata!
Portion of the proceeds after 4pm will benefit the Food Bank!
Get Involved
We would like to invite your organization to be a part of the Big Week of Giving! Individuals or organizations can partner with the SERVE Center by:
Organizing an event or fundraiser to be part of the Big Week of Giving
Donating or participating in the current events scheduled
The SERVE Center will help with publicity and this is a great way to get involved in the Truman campus and in the Kirksville community. Contact us at serve@truman.edu for more information!
History of the Big Week of  Giving 
The SERVE Center kicked off the first Big Week of Giving in 2006. Each fall, the SERVE Center staff work to unify campus in order to raise money, canned food, and awareness for the Food Bank of Central and Northeast Missouri. The SERVE Center supports other organizations with publicity and ideas as they implement their own fundraisers and service projects during the week. The SERVE Center also implements their own activities, such as canned food drives, a Community Partner Appreciation Luncheon, and more.