16th Annual Big Event 
April 1st, 2017 on the Mall

Registration for student and community members for the 16th Annual Big Event will not open until February 13th, 2017, at 5 pm.
Student volunteers register through truservice.truman.edu.
Students can sign up as an individual volunteer or as part of an organization.
15th Annual Big Event 
April 2nd, 2016 
Over 1200 students provided services to the residents of the community by raking leaves, washing windows, painting, and more. The Big Event gives Truman students the opportunity to show appreciation for all of the support the Kirksville community has offered to them.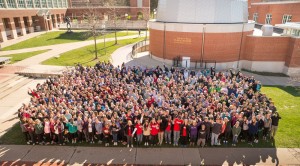 For questions or more information:
Visit our Frequently Asked Questions page
Call: 660-785-7222
Email: serve@truman.edu
A few reminders…
The Big Event is a ONE day VOLUNTEER service project.
The first 300 students to register for the Big Event will receive a free t-shirt. They will be contacted via email within a week of signing up!
Materials and tools will be provided by the resident requesting services or by the SERVE Center. Volunteers don't need to worry about providing any supplies.